And we're back! Refreshed after our recent renovation, we're diving back into "About a Dress." This week's dress has a personal connection to Ginger Root.
Jennifer Jeremias (DC jewelry designer- she makes the fabulous geometric cube earrings!) recently moved away from DC, and donated this dress for us to revamp. We're already missing her smiling face, so this week's "About A Dress" is our little "cheers" to Jennifer 🙂
There was already so much to love about this dress: the print, the collar, those pleats, pockets!… but overall, it was a little too *ahem* old lady school marm. Erin  knew right away that those sleeves had to go. She's been in love with collar details for fall, so using black satin she covered the tips of the collar. She also added satin binding to the pleats as well. The dress had belt loops, but was missing the actual belt, so she also used the black satin to make a resizable belt. To finish up the transformation, Erin chopped off 5″, so it's at the perfect, mid-knee length. The end result embraces the vintage feel of the original dress, but gives it a bit more of an edge.
Available in store and online. Check it out!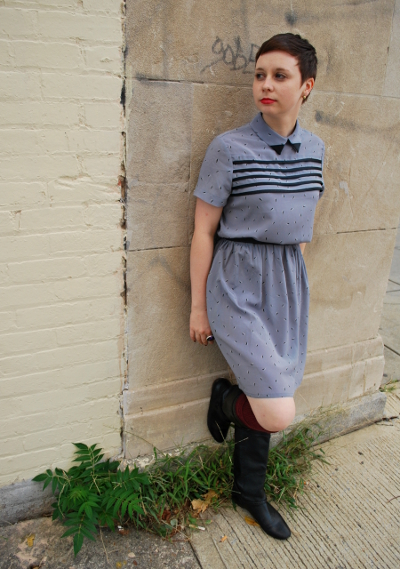 Paired with a cardigan and tights, it's your go-to office outfit. Dress it up with knee highs, chunky metal accessories, and cowboy boots for a night out. Either way, you'll look and feel utterly adorable 🙂