This weeks dress was donated to us by by a dear friend (and occasional Ginger Root model) who was cleaning out her closet. We love-love-loved the polka dots, but the over all 80s cut was not our aesthetic.
Immediately, before i had even really formulated what i wanted to do, i chopped the dress into separates. It was just too much white and navy polka for for me 🙂 I kept the skirt simple, by creating a navy waistband and taking in the sides just slightly to accentuate the pencial skirt shape, while keeping the pockets intact (every skirt needs pockets!)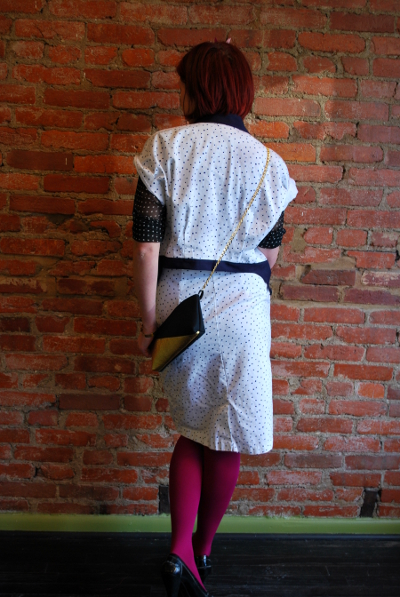 The top was a lot more involved, since i wanted to recreate it as a jacket. To start, I removed the original collar and cut a larger, pointed one out of navy fabric. Then I released the front pleats, and, using the same navy fabric as the collar, cut an additional panel for the front. The new shape is much longer in the front, with a nipped in waist across the back. I finished off the jacket by binding the center front in a faded black material, and changing the front pocket to navy.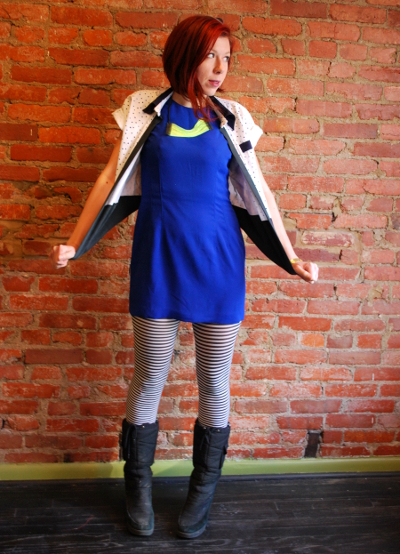 I am now in LOVE with this top! Worn over slim pants and a tunic (maybe with some slouchy boots!)  or a brightly colored shift and patterned tights (like me 🙂 ), this 80s wonder is thoroughly modern.
The pencil skirt is also transformed from a costume into an office wear staple. Two cute pieces from one questionable dress; it doesn't get any better!
And don't forget accessories!