This week's dress was donated to us by a lovely customer who wanted her family hand-me-downs to go to good use. As you can see, this jacket had so much potential, but with the giant sleeves and shoulder pads, it needed some updating.
I wanted this piece to be both a dress and a jacket when it was finished, AND I wanted it to be reversible. I started by removing the sleeves and shoulder pads and added an extra panel across the bottom so it was at short dress length (we are feeling extra short this summer!) I hemmed the bottom and the sleeves so the lining popped out to add a stripe of black to anchor the piece. I converted the pockets so they would work however you decided to wear the piece. I lowered the neckline for extra comfort. And finally, to top things off I added an exposed white metal zipper as the closure.
Wear this with the zipper in back with leggings, wedges, and a Lady Tie for a mod twist. Or belt it and wear your favorite statement necklace. As a jacket, throw on over anything for a layer that will get you attention 🙂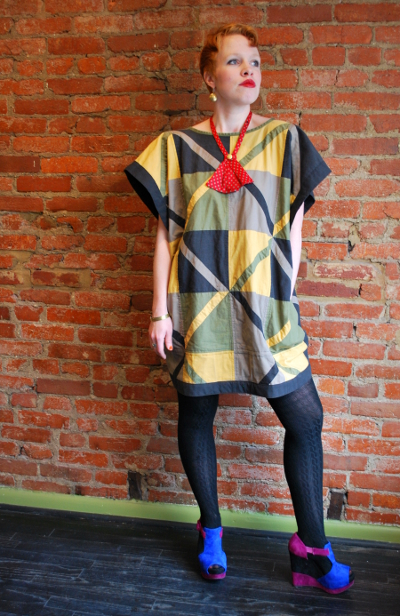 Get this week's About a Dress here!
Until next week!
Do you have something with a lot of potential in your closet, but it needs some tweaking? Call us at 202-567-7668 or email us at info@gingerrootdesign.com to schedule an appointment.
*Tailoring by appointment only, closed Tuesdays and Wednesdays.